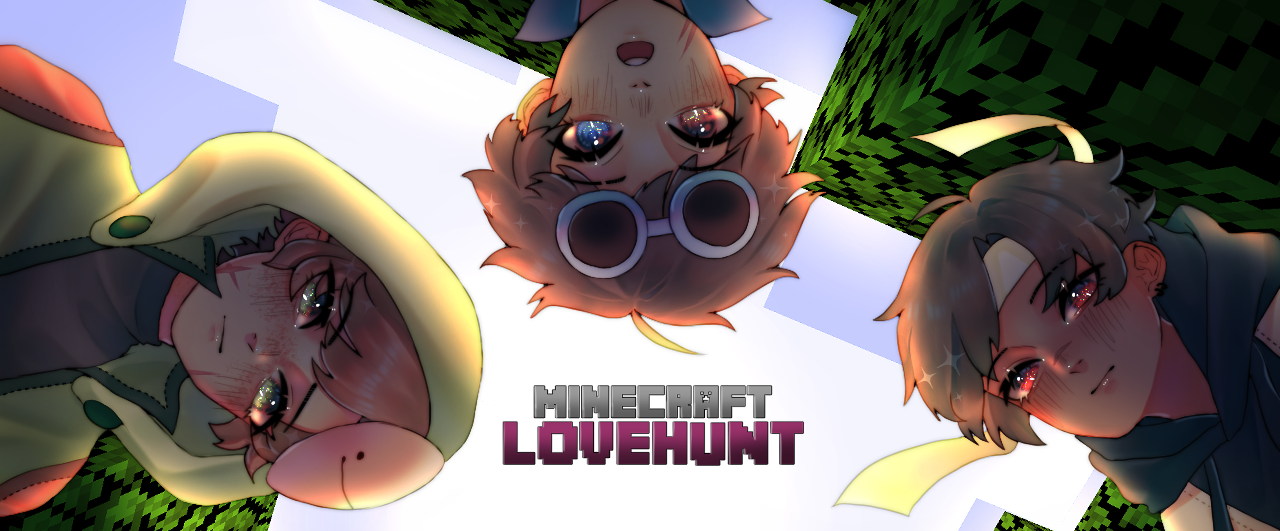 Minecraft Lovehunt
A downloadable game for Windows and macOS
<XD> Well, will you?
Minecraft Lovehunt is a free-to-play visual novel that was made to celebrate Valentine's Day with the Dream Team fanbase! With 9 endings to go through, I sure hope you're in for a ride.
IMPORTANT NOTES & CONTENT WARNINGS:
There will be flashing lights and unsettling words.
You must quit the game after each ending in order for the game's ending counter to work. I know, it sucks, but I can't seem to find a workaround. :/
It's preferable to use your arrow keys + enter button to navigate the menu. The timed choices causes the mouse to glitch out, and you might end up getting a game over.
Try messing around with the Name Input! I added a little bit of easter eggs according to each character. :]
The game isn't finished until you see the Credits.
It's G-rated! Don't know why people are thinking otherwise, but it's completely G-rated, save for a curse word in one of the routes. :]
(Update: Aug 25 2022) THIS GAME IS SATIRE AND FOR FUN AND JOKES. I don't know why you guys took this game so seriously honestly.
The counter in Ren'py is buggy. This means that sometimes, even with the fix, you won't be able to encounter all the routes.
As said below it's my very first game, so the writing will be weird and cringey. It happens. Grow up.
This is my very first game, and everything is just for fun, so I genuinely hope you guys will enjoy it !! :] -Kio.
KIO'S BOUNDARIES CONCERNING MCLH:
Streaming/Recording/Fanart/Edits of the game are OK!
I love seeing your reactions and your outputs from the game! It melts my heart every time and I'm extremely thankful that my game inspires you to do things. :]

Don't send hate to the people who don't like the game.
This seems self-explanatory but I still want to lay it out here. If some people don't like the game, let them. Not everyone is going to like the game.
Don't pass around/ask for the Sprites/CGs/Wallpapers.
I worked hard on all these pieces. If you want to obtain them, it'd be nice if you could buy them along with the free game. But, please don't ask other people who bought a package for the pieces.
Download
Click download now to get access to the following files:
MinecraftLovehunt-1.0-pc.zip
272 MB
MinecraftLovehunt-1.0-mac.zip
234 MB
if you pay $5 USD or more
if you pay $5 USD or more
Wallpapers - Sunrise.zip
6 MB
if you pay $10 USD or more
Wallpapers - Nightfall.zip
7 MB
if you pay $10 USD or more